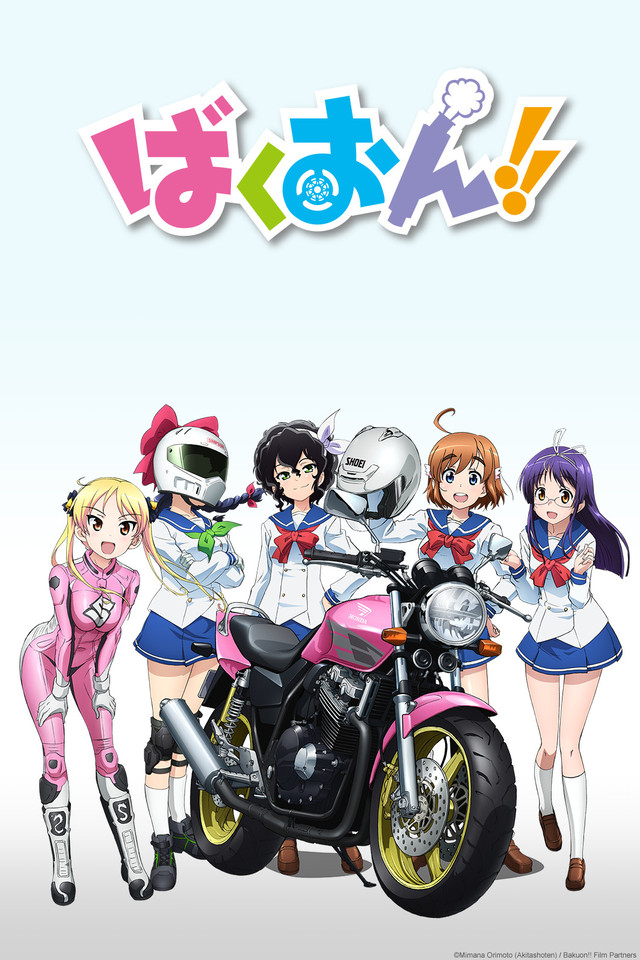 After Rolling Girls I thought that all shows with girls and motorcycles would be hot garbage. Well Bakuon!! is here to try to steer it back in the right direction.
Bakoun!! is about a group of high school girls who became interested in motorcycles. Sakura Hane is a cheery airhead who is always climbing the hill with her bike until one day she meets Onsa Amano who's riding a motorcycle. Sakura becomes an instant fan and her and Onsa join the motorcycle club at school. The show goes through the girls learning to ride, maintain and enjoy motorcycles. Follow along on their adventures.
The show is bright, colorful and everything fits in place. The show is an average show that doesn't try to be more than what it is. Nice simple comedy in the vain of K-On! with one episode that goes ecchi…really ecchi. Didn't notice anything in the show that stood out as an issue, it's a solid production.
This show is more of what I expected from Rolling Girls. It's just a typical comedy with a bit of ecchi moments based around school. If you like light hearted comedy like K-On! then you'll probably love this. It's not the moe moe show based about being cute though they are girls so there is a bit of that and the characters are mostly moe like but it's not Gourmet Girl Graffiti. Hard to explain but it's not a show of them just being cute all the time.
[yasr_overall_rating]