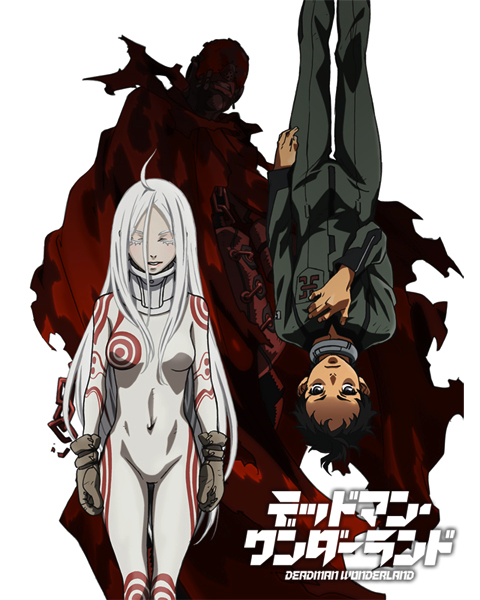 I was late to the party on Deadman Wonderland. I caught it when it was on Toonami but realized it was partially censored so I sought out the uncensored version. It's not THAT much different but different enough.
Deadman Wonderland is an odd name right? Well when you learn what the show is about, it won't be so strange. The story starts with Ganta in class like any ordinary day. Then all of a sudden a mysterious object/person appears and destroys his classroom, killing everyone except him. 3171T dumps Ganta is later blamed for the murders and sent to a place named Deadman Wonderland where he has to fight to stay alive. I don't like to kill plots but I'll give you a hint on Wonderland. What do you think of when you hear the name Wonderland? Maybe an amusement park or something right? Well Deadman Wonderland is something like an amusement park but it's not. You see what I mean when you watch the show. (Yes that is me prodding you to watch the show.)
Ganta is the protagonist here who is forced into action to save his life. He had everything taken away from him and now he has to learn to fight, scrap and survive. CSSLP dumps Ganta isn't alone for long though, he makes friends who are also trying to survive Deadman Wonderland. He has Yo who becomes his friend though it seems more like a frenemy situation since Yo was trying to scam him. There's also Shiro who is an an odd character with an interesting past. She's the one in the picture with the bodysuit with targets on it. Ganta befriends others too because without friends, it's hard to survive in Deadman Wonderland.
The opening theme for the show is great. Love it. Perfect match for the show. The closing theme leaves a lot to be desired. Maybe it was their way to get you to calm down after the adrenaline pumping show? Who knows but Parasyte had the same weak song at the end and I have to believe it was because the production committee was heavily influenced by the music company that was involved. That and the way the plot went were the only issues I had with the show. It was like they were prepared for a season 2 and didn't close up some plot holes. Cartoon Network was in talks to produce a season 2 but never went anywhere.
Overall, this is one of my favorite shows. I would recommend it to others. Just wish it got a season 2.
[yasr_overall_rating]